Media
Audio
To give you a good impression of what Fenris sounds like, we've made some of our work available for streaming. Enjoy!
Ordeal
Offerings to the Hunger
Demo - Words Of The Ascended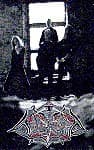 Video
To give you a good visual impression, here are some youtube clips which you can also view in our Youtube channel.
Fenris - Suffering Predestined
Fenris - The Blood Opens Gateways (videoclip)