2014-03-16 The battle strength of Fenris has been reinforced with an addition to the line-up in the form of Joris Klaassen. We know Joris from the early days of Fenris when he played in Pandemonium. As a guitar player he will give more strength to our live sound and an extra dimension to our songwriting process, we are very happy with his choice to join us. Joris also plays in Beyond our Ruins.
Joris during band rehearsal
Also a sneak peak for the song Descended which will be on our upcoming album.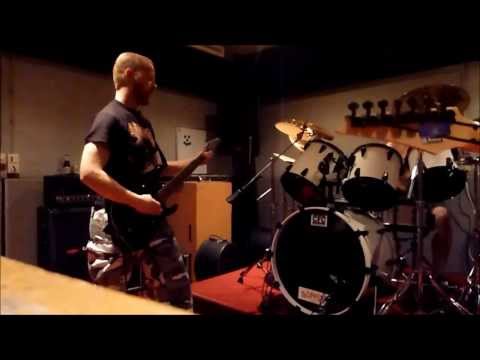 Biography
Originally formed in 1997, Fenris has a 15 year history of combining thunderous viking metal with scorching black metal. At times blindingly fast, sometimes atmospheric, but always melodic and dynamic. With strong roots in Nordic and Germanic mythology, and some of the lyrics in their mother tongue, the mood set is that of ancient people, their hopes and beliefs and their wars and hardships. To date, two albums have been released: 'Offerings to the Hunger' (2001) and 'Ordeal' (2005), the last of which was an unsigned release.
Fenris is (from left to right): Rick - drums, Bas - guitars, Gilbert - vocals, AntiKriss - bass, Joris - guitars